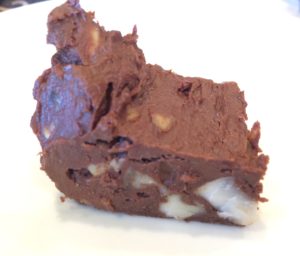 There is no 'wrong' way to make raw chocolate. I encourage people to modify the ingredients and personalise this basic raw chocolate recipe according to your preferences. Here are the approximate quantities of a great batch of raw chocolate I made recently as part of a healthy snack demonstration for a group of ladies. It disappeared quickly and received many positive comments.
1 cup organic raw cacao powder
1 cup cold pressed virgin coconut oil at room temp, or warm.
8 dates (soaked overnight and chopped, include water)
1/2 cup brazil nuts & walnuts (soaked overnight and chopped)
1/4 cup hemp seeds (optional)
±2 tablespoons honey
1/2 – 1 teaspoon turmeric
1/2 – 1 teaspoon cinnamon
1/4 – 1/2 teaspoon Himalayan crystal salt
Mix all the ingredients thoroughly in a bowl. If your coconut oil is hard, stand the container in hot water until it softens. Never microwave your ingredients! When thoroughly mixed, pour into a glass dish or a pan lined with parchment paper, spread around. Place in the refrigerator to harden – or the freezer if you are in  a hurry to eat some delicious raw chocolate!
Remove the parchment paper and cut on a chopping board. When the chocolate is too cold it may crumble. Be careful when serving because it may crumble. Store in the refrigerator.
In my raw chocolate demonstrations I like to discuss health, making more healthy food choices, adding more delicious and 'good for us' foods to our plates, and ORAC values. Most people are aware that eating chocolate, especially dark chocolate has specific health benefits. However, consuming raw cacao powder delivers a phenomenal array of mineral content and unique properties.
According to David Wolfe, Cacao is the best natural food source of antioxidants, Magnesium, Iron, Chromium, Manganese, Zinc, Copper, Vitamin C. Omega 6 Fatty Acids, Phenylethylamine (PEA) (Cacao is one of the great weight-loss foods because the minerals and the PEA molecule help shut off the appetite).The ORAC value of raw cacao powder is off the charts when compared to fruits we have come to think of as high in antioxidants. The ORAC Value for blueberries is 32, wild blueberries 61, compared to raw cacao powder with a value of 955. ORAC (Oxygen Radical Absorption Capacity assay is a standard measure of antioxidant concentration.[1]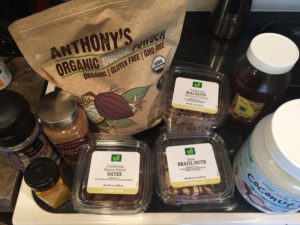 I really liked the result of soaking the dates and the nuts overnight. There are benefits to soaking nuts (reduction of phytates) but they also enhance the delivery. Soaking also made the dates moist and mixable. I use walnuts because they are excellent for brain health and brazil nuts because they delivery selenium.
Sorry, I didn't get a picture of the actual raw chocolate – it was so good and appreciated by so many, that it was eaten up fast! I need to make another batch and try to remember to take a picture! [Edit: I did it! Note the picture at the top. It was also delicious!]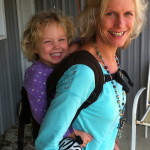 Author: Becky Hastings is a wife, mother, grandmother, and passionate follower of Jesus and truth. As a breastfeeding counselor for over 23 years Becky is devoted to helping parents make wise decisions for the long-term health and wellbeing of their babies. As a member of a Vaccine Safety Education Coalition, Becky writes and speaks on the topic of vaccine safety. From time to time Becky shares easy recipes that can help you have a healthier life!
[1] David Wolfe, Superfoods, The Food and Medicine of the Future, 2009.