Since we try to eat clean, organic, non-processed foods, there aren't too many restaurants we frequent in our town that majors on the franchise model. But, I do have a confession: I love Panera Bread's tomato soup. It's a little expensive for a bowl, and I don't eat the bread, but occasionally I indulge myself. Many times I considered trying to match their recipe, but last week, after having a significant molar pulled, I really needed some soup! So I finally attempted it, and was delighted with the result.
For the same price as a bowl of tomato soup from Panera, I can make a huge pot. Not only is it delicious and economical, it is also quick and easy. I encourage you to give it a try. As always with my cooking, I use a great deal of flexibility. I have made it two times and both times were different, but still great.
I added jalapeño and cayenne pepper just because I enjoy hot flavors and they are both really beneficial for healing and the immune system. You can leave them out to have a milder flavour. See notes at the end on optional ingredients to add.
2 Tablespoons oil suitable for heating (avocado, coconut, or butter)
1 chopped onion
4 – 8 cloves garlic, chopped
1/2 – 1 jalapeño, chopped (optional)
28 oz can of diced tomatoes ( I used Simple Truth Organic)
Either one 25 oz jar of your favorite tomato pasta sauce (I used Simple Truth Organic Tomato Basil) OR another 28 oz can of diced tomatoes.
1 cup chicken stock (the 2nd time I used beef stock)
1 Tablespoon honey
1 Tablespoon dried basil, or 5 leaves fresh
1/2 Tablespoon dried oregano
1 teaspoon salt
black pepper
cayenne (red) pepper (optional)
1/2 cup (or more) half and half, cream, or milk
In a heavy bottomed saucepan, sauté the onion and garlic in your preferred oil until translucent. Add jalapeño, if you like the heat. Add the remaining ingredients, except for the half and half. Bring to a boil. Allow the pot to simmer on low with the top off for about 15 minutes, then add the half and half, milk or cream and allow to heat through. Use an immersion blender or transfer all (or part) to a regular blender. Serve with whatever you enjoy. It's great plain, but it was also really good sprinkled with cheese!
Optional variations: For an additional nutrition boost, the second time I made it, I added 4 carrots to the above recipe. When it was put through the blender, there was no obvious indication of carrots, except that it may have been a little thicker – and the beta carotene content was boosted!
[Edit: I just made this again on 29 March 2017 and included about 1 1/2 cups of butternut squash cut into cubes, a handful of leafy green beet tops, 1 whole peeled fresh tomato (because it was very ripe and needed a place to be useful) and 3/4 inch of fresh turmeric root! I only added the turmeric at the blending stage, so it wasn't cooked. Because the butternut is sweet, I omitted the honey. It was great!]
I'm sure it will be easy to freeze and reheat, but I didn't have enough left over to try!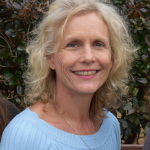 Becky Hastings, wife, mother, grandmother, passionate follower of Jesus, seeker of truth and health. Facing a world quite different from the one in which I grew up, I seek to research and understand the very real dangers threatening the health and freedom of today's parents, providing information to navigate towards joyful family living!  Posted 31 January 2017