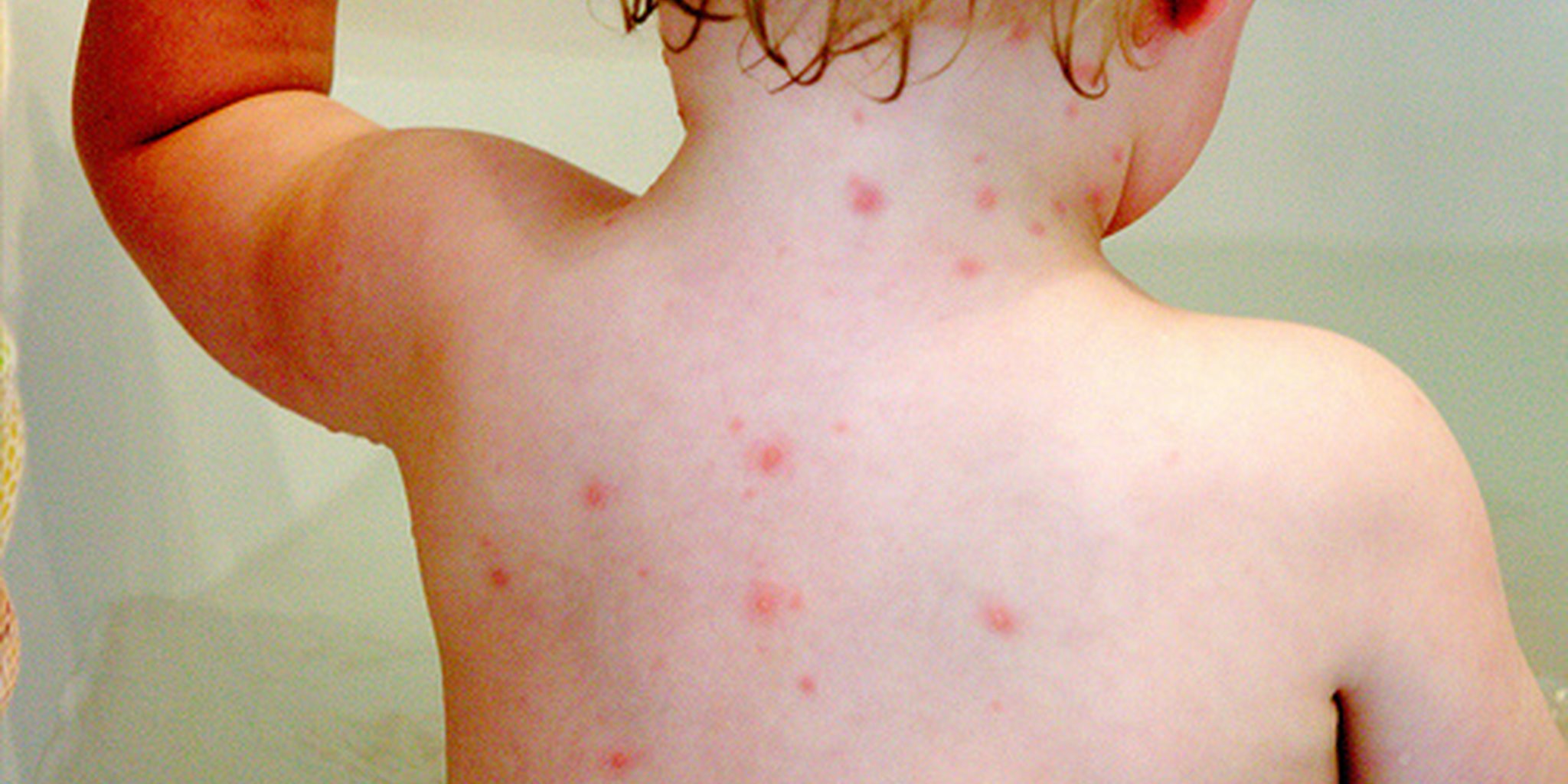 Should I give my child a vaccine to prevent this mild inconvenient infectious illness?
Should I purposefully expose my child to someone with an active case of chicken pox in the hope of them gaining natural immunity?
Opinions on chicken pox, caused by the Varicella Virus, abound.
I do not claim to be an expert on chicken pox, but this is a recount of my own experience and the opinions I have formed about this well known childhood infectious illness.
When my fifth baby was 10 months old her next two older siblings, age 7 and 11, were dropped off at a very good friend's child's birthday party where they spent about two hours. There was another child there who soon afterwards developed chicken pox.
Approximately two weeks later my two children developed spots and a mild case of chicken pox. Their illness was not particularly noteworthy and didn't cause too much stress, other than reminding them NOT to scratch. I may have encouraged them to have more frequent baths and put oatmeal in the water.
Meanwhile, they really loved their baby sister and continued all the normal contact – kissing and cuddling – as usual.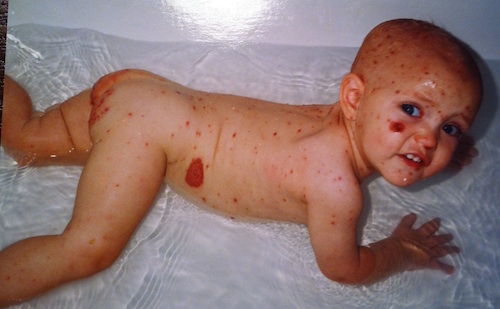 About two weeks later baby was miserable and started developing spots. Her spots kept coming and coming. She developed two extremely large spots (a virologist said they are known as a "herald") on her face and hip. Her bum and diaper area were covered. She had a slight fever. Fortunately she was still breastfeeding and we continued breastfeeding even more frequently. In addition, she had more frequent baths with oatmeal added, and we did all the usual methods of trying to comfort a sick baby without drugs. Having older siblings was helpful because there are more people to take turns holding or entertaining a miserable baby. It took a few days for her to return to her happy self and a few weeks for all the spots to heal.
At the same time, one of my older sons also came down with chicken pox. He was fifteen at the time and had a fever, lots of spots and was pretty miserable. He basically went to bed for a few days.
Everyone ended up healing. We never needed any medical appointments. I did not use high doses of vitamin C, in the form of sodium ascorbate, at that time because I didn't know about how effective it is in reducing both severity and duration of all viral illnesses.
An interesting aspect of this story is that my oldest son, 17 at the time, never came down with a rash or fever, despite the same exposure as his 15 year old brother. When he was a toddler he had been exposed to a child with chicken pox, but he never came down with an obvious case himself. His experience is similar to my own. I was exposed at close proximity as a child when my three siblings came down with chicken pox, but I never got sick. When my four children had chicken pox I never got sick. My conclusion is that my oldest son and I somehow developed natural immunity without ever having had an active case of infection. We have never had our titers tested, but I would guess that we have antibodies.
My conclusion? Chicken pox is not that big of a deal, but could possibly be of concern if a pregnant women were to become infected.
I personally would never risk the dangerous ingredients in the vaccine for any reason ever.
If you want to expose your children to chicken pox by visiting someone who is sick, that is your choice. I would not go so far as to rub active blisters on my child. Most of the time the infection can be passed before a child is feeling ill. There is an infectious period prior to the spots forming.
If you do choose to expose your child to someone who is ill with chicken pox, I would limit the time. My second set of children both had a higher exposure dose because of being around their siblings constantly in the infectious state, and thus had worse symptoms than the two children who had very brief, limited exposure.
It has been stated that many children develop chicken pox despite having been vaccinated against it, so the vaccine is not 100% effective. Also, a non vaccinated child may become infected with chicken pox by exposure to a child who has been recently vaccinated, whether the vaccinated child experiences illness or not. The vaccine strain of the chicken pox is known to be different from wild strains.
Breastfeeding provides protection from every illness and is always highly recommended! All my children were breastfed for well over two years. The baby was ten months old and breastfeeding when she developed chicken pox. Sometimes breastfeeding babies do not develop an infection, but mine did.
If your children do develop chicken pox, here are some tips:
Give high doses of vitamin C (powdered sodium ascorbate). A good guideline is 1 gram per year of child's age per day, spread throughout the day, up to the age of 10 years (thus a 2 year old would get 2 grams). Over the age of ten years, 10 grams per day, increased up to 20 grams when experiencing an active infections or any symptoms.
Avoid scratching. You can put mittens or socks on baby's hands to prevent scratching. Older children could also wear socks on their hands at night when they may be prone to scratching. Clip fingernails.
Avoid ibuprofen as it has been implicated in causing a more severe reaction in chicken pox and may increase risk of necrotizing fasciitis, a serious skin infection.
Avoid Tylenol. Tylenol depletes glutathione levels in the body. Glutathione is very necessary in helping the body rid itself of foreign substances.
Avoid aspirin which is know to be implicated in Reye Syndrome.
I never used any essential oils to treat my own children when they had chicken pox, but if I was treating a child with chicken pox today I would research which ones to use. Lavender Oil, Tea Tree Oil, Naouli Oil, Roman Chamomile Oil, Clove Oil, Rosemary Oil have all been suggested.
Oatmeal baths, baking soda, Epsom salts, brown vinegar, honey (applied topically), aloe vera, basil, ginger have all been suggested as useful ways to reduce itching and aid healing.
This is an excellent article about chicken pox and a long list of helpful home remedies, but I highly disagree with their statement "The best way to prevent chickenpox is to get vaccinated." http://homeremediesforlife.com/chickenpox/
There are more risks in getting the chicken pox vaccine than are admitted by those promoting this shot. "Reported complications from chickenpox vaccine include shock, seizures, brain inflammation (encephalitis), thrombocytopenia (blood disorder), Guillian Barre syndrome, death and infection with vaccine strain chickenpox or transmission of vaccine strain chickenpox to others;" (see more at http://www.nvic.org/Vaccines-and-Diseases/Chickenpox.aspx)
Chicken pox vaccine is manufactured by Merck and is supplied in a frozen or refrigerated form either on its own, or in the ProQuad, which is a combination shot that includes MMR (measles, mumps, and rubella vaccines). You can read the complete information from Merck on these vaccines from the FDA website. I encourage you to especially read section 11 which always contains the detailed description. In the case of the varicella vaccine (chicken pox) the most troubling fact is that "the Oka/Merck strain of varicella-zoster virus propagated in MRC-5 cells." MRC-5 cells were derived from aborted human fetal cells.
"Each 0.5-mL dose of the vaccine nominally contains 20 mg of sucrose, 11 mg of hydrolyzed gelatin, 2.5 mg of urea; 2.3 mg of sodium chloride, 16 mg of sorbitol, 0.38 mg of monosodium L-glutamate, 1.4 mg of sodium phosphate, 0.25 mg of recombinant human albumin, 0.13 mg of sodium bicarbonate, 94 mcg of potassium phosphate, 58 mcg of potassium chloride; residual components of MRC-5 cells including DNA and protein; 5 mcg of neomycin, bovine serum albumin (0.5 mcg), and other buffer and media ingredients. The product contains no preservative."
Notice that the vaccine contains residual components of MRC-5 cells including DNA and protein. That means, when we inject this vaccine, we are injecting human DNA from an aborted male baby. The Rubella vaccine contains residual DNA from a female aborted human baby. There has been no scientific exploration of what the consequence of injecting our babies with both male and female DNA. The package insert of all of these vaccines clearly states in section 13:

That means we do not know if this vaccine could be implicated in future cancers, DNA mutation or teratogenic (relating to, or causing developmental malformations), or to the impact on your child's future fertility. This same statement is found on nearly every vaccine package insert I have investigated.
Vaccines are a huge gamble. Chicken pox is a brief inconvenience.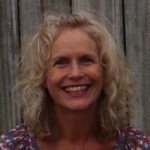 Author: Becky Hastings, wife, mother, grandmother, passionate follower of Jesus and truth. As a breastfeeding counsellor for over 23 years Becky is devoted to helping parents make wise decisions for the long-term health and wellbeing of their babies. As a member of a Vaccine Safety Education Coalition, Becky writes and speaks on the topic of vaccine safety.