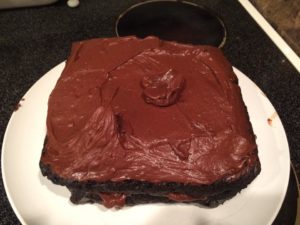 This recipe is based on quinoa and is amazingly moist. My friend, Simela, says it works equally well using millet. While I generally try to avoid sugar, this recipe with the quinoa, butter, coconut milk, coconut oil, and eggs, makes it lean towards the more healthy of decadent chocolate treats! My presentation skills are not high in my skill set, but I thought the picture looked quite appealing! I imagine adding some blueberries or other berries on top would increase the appeal.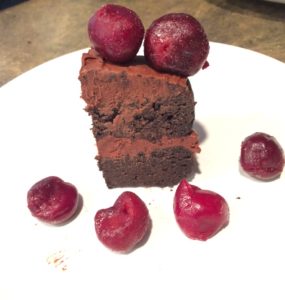 This recipe is quick and easy to make if you have a blender. I'm not sure what the results would be without a blender. I used my Vita-mix, and since I was using such a powerful blender, I decided to try something I'd never seen before in a cake recipe. You know how it says, "whole eggs"? Well, I washed my farm fresh eggs bought directly from a local farmer, and put the WHOLE eggs into the Vita-mix! So, my cake has the additional benefit of calcium and probably a few other necessary minerals! We can all use more minerals!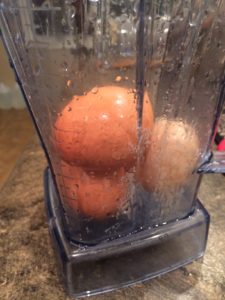 My cake is based on inspiration from my friend, Simela, and the explanation found here. Of course, I can never follow recipes exactly, so here is what I did:
Combine in blender:
4 whole (I literally used whole clean eggs in my Vita-mix! I blended them on high until no crunchy noises were heard!) If you don't have a Vita-mix, or aren't into consuming egg shells, just crack and use the 4 eggs as normal!
Then I added the following ingredients and blended again.
1/3 Cup raw milk (from my local dairy farmer)
2 cups cooked quinoa (I used sprouted organic)
1/2 Cup melted butter (I never use a microwave to melt butter – unlike some people who bake in my kitchen. I always melt slowly over low heat)
1/4 Cup melted coconut oil
1 tsp organic vanilla
In a separate bowl I combined:
1 Cup Hershey's dark cocoa (I often use raw cacao, but when you are going to be cooking, there is little point in using raw cacao which is more expensive)
1 Cup organic brown sugar (because that is what I found in my pantry. My friend Simela, always uses honey – just less than a cup – in hers. I think I will try honey next time.
1 heaped teaspoon baking powder (I left out the baking soda/bicarb because it ALWAYS seems to give baking a bad taste)
Himalayan salt, several turns, probably around 1 tsp, but life is too short to measure exactly.
I poured the liquid mixture into the dry ingredients and stirred to mix thoroughly. I lined 2 pans with parchment paper and divided the batter between them. The batter was a bit stiff and I spread it around and popped them straight into a 350 degree (180 Celsius) oven and baked for 25 minutes.
It works best to prepare the icing BEFORE. But I neglected to read that part – or at least digest that information enough to put it into practice! I did however, put the can of coconut milk into the refrigerator the day before, so it was nice and cold, which is important.
ICING:
I melted one whole 12 oz (340 g) bag of Private Selection 43% Cacao semi sweet chocolate chips. I'm sure a variety of chocolate would work, for me the darker the better.
I opened the can carefully and scooped out all the thick part of the coconut milk. It was about 1/2 of the can and added it to the chocolate once it was melted. You can taste it at this point to see if you want to add more coconut milk, depending on the darkness/sweetness of your chosen chocolate. I stirred everything together, then allowed it to cool on the counter, then in the refrigerator.
After it was cold, I whipped it for about 45 seconds.
Putting it all together: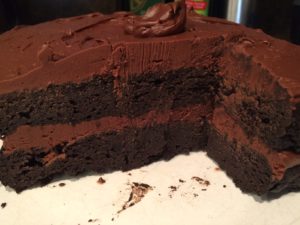 After the cake cooled I put it carefully on a plate with the bottom side up, smothered it with 1/2 of the icing, added the 2nd cake bottom side up, and smothered it with the remaining icing. I put the whole thing in the refrigerator to get cold.
I did have a piece for breakfast desert. It is satisfying, without leaving you craving more – a good place to be!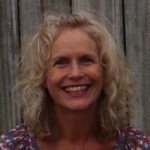 Author: Becky Hastings, wife, mother, grandmother, passionate follower of Jesus and truth. As a breastfeeding counselor for over 23 years Becky is devoted to helping parents make wise decisions for the long-term health and wellbeing of their babies. As a member of a Vaccine Safety Education Coalition, Becky writes and speaks on the topic of vaccine safety.