I never thought I would be so careful with my onion usage!
I caught myself thinking, 'I'll use ¼ of an onion in hash browns so that I can still have a lot left for another dish.'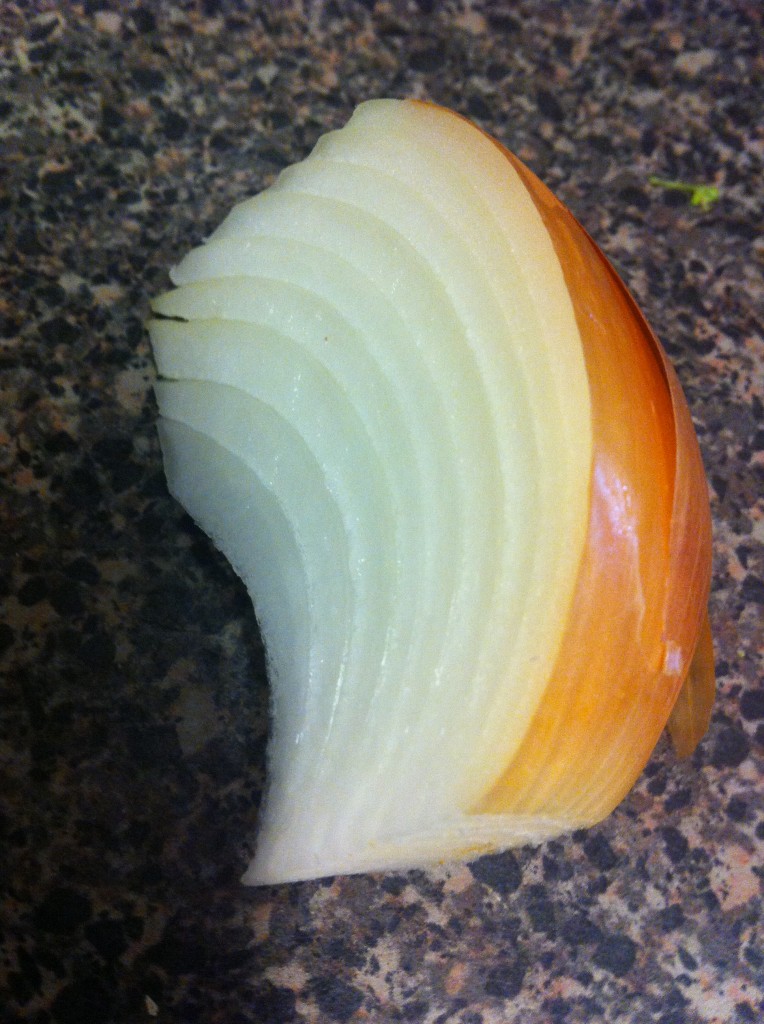 What is happening to me???
Eating organic in the USA is changing the way I prepare food, and the way I think about vegetables!  Since one organic onion costs approximately $1 from my local grocery store, I have learned to use as many layers as possible and think about how to share it among meals!
Another way of stretching organic value is to use every part of every organic vegetable that I purchase.  No throwing away the broccoli stalks anymore! Broccoli stalks and cauliflower stalks can be cut up and lightly sautéed with coconut oil or saved to go in the morning green smoothie!  No peeling ginger, why waste any part?  Cauliflower leaves? Chop em up!  Outside leaves of the organic cabbage that was a cool $4??  Chop it fine, no more waste from this girl!
Brown spot on bananas?  Into the frozen fruit tub for smoothies… Mushy bits of strawberries? The same.  In fact sometimes I even freeze strawberries whole with the green bits still on!
"Don't throw anything away!"  Is my new battle cry to my family!
I even eat organic apple cores, as long as there is no fungus, and while other members of the family might not take my new ideas this far, when they leave a cut out apple core on the cutting board – it goes into the frozen fruit tub for smoothies!
Don't tell me you can't afford organic – think about ways to prioritize organic and don't waste any!  Reduce expenses in other areas by making your own and by organic so you send a financial message – LOUD AND CLEAR – to retailers and big agro that you won't buy non-organic! Another reason to choose organic produce is because in nutrient analysis organic fruit and vegetables score significantly higher than their non-organic counterparts.  Buying organic is about what you AREN'T getting – pesticides and herbicides – but it is also about what you ARE getting – more bio available nutrients for you money!  You also have the added satisfaction of supporting a local brave farmer!
If finances are really tight, buy the clean fifteen, but always buy organic of the dirty dozen!  Thanks to the Environment Working Group for keeping on top of this information.