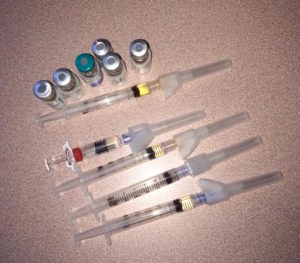 These are the actual shots that were prepared for a 16 month old who was "behind" on her vaccines. She was given all these vaccines on the same day: DPaT (diphtheria, tetanus, pertussis), Hib (Haemophilus influenza type B), IPV (Inactivated poliovirus), MMR (measles, mumps, rubella), Varicella (chicken pox), Hepatitis A, and PCV (Pneumococcal conjugate).
Parents unquestioningly line up their children to receive this many shots. It is routine for the doctor's office staff to inject this many needles using both arms and both legs of baby while holding them down with force. Some babies and children actually die within hours or days after this chemical assault injected into their body. Many have serious immediate reactions which may have lifelong negative impacts. Other children seem to be 'fine' but return to the pediatrician's office over time with ADD, ADHD, autism, diabetes, and various other illnesses, and they continue to be injected with yet more vaccines – all on the CDC schedule – but no one connects the dots. Referrals are made to occupational and speech therapy, and children are diagnosed with speech or developmental delay, and autism and many other auto-immune conditions or allergies.
Rarely do parents, or doctors, stop to ask WHY?
Please educate yourself, and all the pregnant or potentially pregnant people you know – BEFORE they face this many injections for their precious baby at one time. This schedule has never been studied in combination and US children are sicker than ever.
Read more about Navigating the Vaccine Information.
Becky Hastings, a wife, mom, grandmother, passionate follower of Jesus, health promoter, breastfeeding counsellor helping moms for 22+ years, and someone who seeks to research, understand and share truth so people can make wise choices in our crazy mixed up, deceived world! Sometimes I share recipes and homespun teaching videos.