This recipe is gluten free, but does contain eggs and dairy. If you are also dairy free, you can substitute the milk with water (really – it doesn't make a difference, or coconut or almond milk). If you also avoid eggs, you can substitute chia seeds, but I haven't experimented with that.
Many people find tremendous health benefits from avoiding gluten. However, even gluten free processed flours should not really be a staple in most of our regular daily eating plans. However, it's nice to have an occasional treat, or a way to spoil grandchildren when they come to visit!
I've made this recipe twice and it is really easy, moist, and delicious!
Also, I've NEVER had a loaf pop out of a pan more easily in one complete piece. That is saying a lot since I've been baking quick loaves for about 40 years! This recipe is based on another gluten free recipe, but I significantly reduced the amount of flour and increased the eggs. Perhaps every loaf I've ever made in the past was too dry because I had followed a recipe and put TOO MUCH FLOUR into it! Every day is another opportunity to learn.
---
Gluten Free Banana Bread
Liquid ingredients: Combine in a bowl (mash the bananas) or blend gently.
| | | |
| --- | --- | --- |
| 3 | Medium | bananas (frozen and thawed works well) |
| 2 | Eggs | Organic* of course |
| 3 | Tbl** | Butter, coconut oil or a combination |
| ½ | Tsp*** | Vanilla |
| 2 | Tbl | Maple syrup |
| ¾ | Cup | Milk (or water) |
Combine dry ingredients in a bowl:
| | | |
| --- | --- | --- |
| 1 ¼ | Cup | Gluten free flour (½ cup each white rice & coconut, 1/8 cup each tapioca & potato flours) |
| 1 ¼ | Cup | Organic whole gluten free oats |
| 1/3 | Cup | Organic sugar |
| 3 | Tsp | Aluminum free baking powder |
| 1 | Tsp | Salt |
| 1 | Tsp | Cinnamon |
| ½-1 | Tsp | Turmeric (optional, but everything benefits from turmeric!) |
| ¼ – ½ | Cup | Chopped Walnuts |
 **Tbl = Tablespoon. ***tsp = teaspoon, approximately 5 ml
Stir dry ingredients, then combine with the liquid ingredients and stir until just mixed (never over mix quick breads). Pour batter into a buttered loaf pan (I used glass). Bake at 350 for 45 minutes, turn down the oven temperature to 325 and bake for 15 more minutes, until toothpick inserted into the center comes out clean. Allow to sit for 10 minutes, then loosen the sides with a knife (or Cutco spatula spreader) and remove from the pan onto a wire rack to cool. ENJOY! With butter or plain.
*I try to purchase and use only organic ingredients as far as I am able. A quick note on organic ingredients. The reason it is important to avoid non-organic foods is because of the glyphosate (which is in Roundup) is generally sprayed on all crops that are not organic. Most of us have a glyphosate burden that can wreak havoc with our longterm health. Eating organic only has been shown to significantly reduce the amount of glyphosate your body has to deal with and leads to robust health – mental and physical. Many people think organic is a fad, is too expensive, and one man I spoke to in the grocery store was repulsed by the idea of organic because he thought it would not be enjoyable to eat! The good news is 1) there is more and more organic options available in local grocery stores with better and better labels; 2) the price is not so much higher than non-organic brands, but when considering the cost we all need to realize that the cost of sickness today is extremely high; 3) organic actually tastes and FEELS better!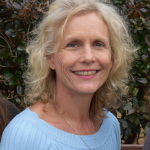 Becky Hastings, wife, mother, grandmother, passionate follower of Jesus, seeker of truth and health. Facing a world quite different from the one in which I grew up, I seek to research and understand the very real dangers threatening the health and freedom of today's parents, providing information to navigate towards joyful family living!  Posted 31 January 2017