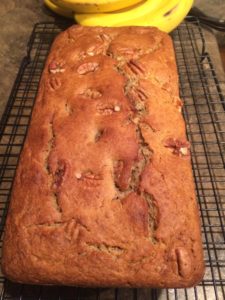 In August 2012 I decided to do a 21 day sugar fast. I'd been doing various similar fasts for a couple of years. Sometimes I would fast from sugar AND coffee (tough). This time I added bread/wheat to my fast. It was remarkable how after about 2 days of eating no wheat products how much better I felt. I never thought I had a problem or any sensitivity to wheat, but cutting it out left my gut/digestion feeling so good and I had so much energy, that even after 21 days I decided I could live without wheat forever! If you had told me that I would make this decision, I wouldn't have believed you because I really enjoy baked items. But that short fast cured my addiction and I no longer felt compelled to devour bread, doughnuts or cake!
I admit I have had the occasional cookie or cinnamon roll when my daughter has made them. But by and large I have avoided most wheat containing foods since August 2012. I didn't immediately rush to find gluten-free flours and replacement recipes. I just stopped eating muffins, cake, bread, etc. I truly feel so much better that it is easy to find other food choices that satisfy.
However, recently I have been hankering for banana bread. Maybe it's because of the Christmas season. Maybe because I had a lot of ripe bananas. So after nearly 4 1/2 years of gluten-free living I have experimented with baking my first GF banana bread!
I reduced the sugar to 1/3 of a cup, so it's not exactly sugar-free – but it is LOW sugar! I usually write my recipes in steps so that it is really easy to follow – that is the way I wrote them for my children to learn to cook. I like to use Bob's Red Mill because they have a great ethos and are employee owned, but other than the GF flour, you could probably substitute other brands. Also, if you don't have the Arrowroot, you could just try  cups of Bob's GF Flour.
GF Banana Bread
In a bowl combine together:
1 and  ¾ cups Bob's Red Mill GF Flour
¼ cup Bob's Red Mill Arrowroot Flour
1/3 cup brown sugar (organic)
1 tsp baking powder
½ tsp baking soda (Bob's)
½ tsp Himalayan salt
1 tsp cinnamon
½-1 cup pecans from my friends Al & Mary at Pearson Farm (I used whole pecans, but it makes it challenging to cut into slices, so next time I will probably chop them).
I combined the following in my Vita-Mix, but if you don't have a blender, or food processor, just use what you have to mash the bananas and mix with the other 'wet' ingredients.
2 eggs (organic)
3 very large ripe bananas (organic)
½ cup butter melted (organic)
3 Tbl milk kefir (or milk, or water)
1 tsp vanilla
Pour the wet mixture into the dry mixture and stir until combined with a wooden spoon. Lightly grease a loaf pan with butter (I used glass), pour batter in. Bake at 350 degrees F for 50-55 minutes until a toothpick comes out clean. Allow to cool on a rack for 10 minutes then remove from the pan.
Seriously, I have probably made hundreds of regular banana breads in my 34+ career as a mother of five children. This GF loaf came out of the pan better than anything I've ever made. It was so good I had to take a picture of the bottom!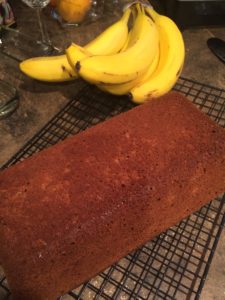 This is my second GF recipe. My first is GF SF waffles. They are light and fluffy and really easy to make. I don't indulge in them often, but enjoy making them for children and grandchildren.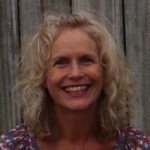 Author: Becky Hastings, wife, mother, grandmother, passionate follower of Jesus and truth. As a breastfeeding counsellor for over 23 years Becky is devoted to helping parents make wise decisions for the long-term health and wellbeing of their babies. As a member of a Vaccine Safety Education Coalition, Becky writes and speaks on the topic of vaccine safety. As a diversion, she sometimes posts recipes!