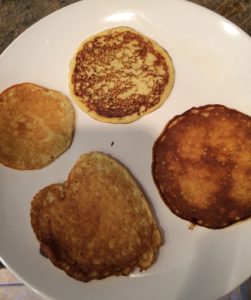 These delicious pancakes are not only YUMMY and LOVED by all ages, they are also  #paleo, #glutenfree #dairyfree #sugarfree and #healthy! All ingredients are as organic and local as possible!
My good friend, April, mom of many, shared this amazingly simple recipe with me. It's too good not to share…
1 or 2 very ripe bananas
2 eggs
1/8t. baking powder
a squirt of vanilla
dash of Himalayan salt
Mash everything together with a fork. Or, if you have a blender or food processor, dump in all the ingredients and process for a minute or so. I prefer the texture and result from using the Vita Mix, but use what you have.
Heat coconut oil in a skillet for several minutes to a medium heat (if skillet is too cool the batter may stick and be much harder to turn). Pour by spoonfuls and cook. Flip and cook on the other side. Makes 14 or so small pancakes and can easily be doubled. Serve with organic maple syrup, honey, fruit, yogurt, cinnamon, butter, etc. Choose whatever combination appeals to you!
So simple. So fast. So delicious! So healthy! A great treat for anyone trying to adjust to  gluten free.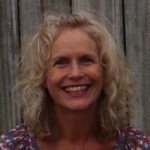 Author: Becky Hastings, wife, mother, grandmother, passionate follower of Jesus and truth. Sometimes she blogs about recipes so that they will be easy to find in the future!  As a breastfeeding counsellor for over 23 years Becky is devoted to helping parents make wise decisions for the long-term health and wellbeing of their babies. As a member of a Vaccine Safety Education Coalition, Becky writes and speaks on the topic of vaccine safety.