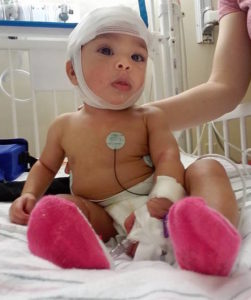 My goal is to educate parents so that this doesn't happen to you. Please share with anyone you know who is pregnant or has a new baby. Sometimes grandparents also need an education. While it can be hard to educate those we love who may have different viewpoints, there are some strategies that are more effective than others.
Facts every parent needs to know:
Not all babies handle vaccines well.
The entire vaccine schedule has NEVER been tested for safety. Every day 2, 4, 6, 12, and 18 month old babies are injected with MULTIPLE vaccines, yet this combination has never been tracked or studied for safety given in this way. By 6 months a baby will receive 34 vaccines via 16 needles* containing 60 antigens. (See more: The USA/CDC Vaccine Schedule)
Please educate yourself on the safety and the risks versus benefits of vaccines BEFORE you need to. Learn about the reality of vaccine injury from parents who have personal direct experience. The following story was written in October 2016, from a mom who watched her daughter react to the shots given to her at the four month 'well baby appointment.'
I was fine with Vaccines until my daughter got sick. She was perfectly healthy at birth and everything was fine. Her Pediatrician said she was just perfect. I took her to her 2 month appointment and she got her shots. After that I didn't notice anything, or perhaps the symptoms weren't so obvious. Anyways, we went on October 3 to her next doctor's appointment and she got her 4 month shots. I already didn't like how the nurse jabbed them in her thighs. We took her home afterward and put her down for a nap. When she woke up she was inconsolable. That's when I noticed she was jerking. I thought it was from the pain and I did the best I could to comfort her. The jerking did not stop, and I kept thinking it would wear off. By Friday I decided to call the doctor and they told me at first it couldn't have been the vaccines it had to be gas. No way. I called again and they told me to take her to the ER. So I did. Now after an EEG, MRI, and several labs for metabolic disorders and genetic testing, we are waiting for answers. Normal MRI. The labs are taking longer to come back. The EEG said that the jerks are myoclonic seizures. I personally think it's the vaccines and in particular I think it's the aluminum in the vaccines. That's why we are waiting on a test for aluminum. What's crazy is how hard we have to press them to do the test. They are convinced, because of her small size, she must have something else going on. Her head size is at the 5th percentile and her weight is at the 10th. Her height is normal. I think it was the vaccinations and how her body handles the aluminum. I'm going to have to do a lot of research now on vaccines. I'm so glad I found this group. I just thought I'd share my story. Still in the hospital. I will let you know what we find out. KAS, baby's mom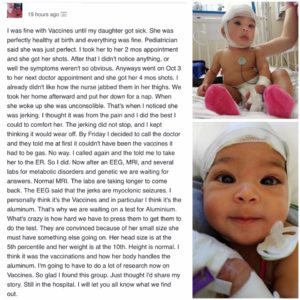 The idea that giving so many vaccines at once could cause damage might be new to you. If you want to delay shots. You can. If you want to give less shots you can. You are the parent and have the right to decide what preventative medical treatments are best for your baby. If you decide to give any vaccine for any reason, please read this first so that you can try and minimise the impact on your precious baby. A paren't most significant role is to protect the brain of their most vulnerable young infants.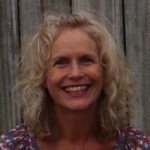 Author: Becky Hastings, wife, mother, grandmother, passionate follower of Jesus and truth. As a breastfeeding counsellor for over 23 years Becky is devoted to helping parents make wise decisions for the long-term health and wellbeing of their babies. As a member of a Vaccine Safety Education Coalition, Becky writes and speaks on the topic of vaccine safety.
*Sometimes vaccines are combined into a multiple combination such as PEDIARIX and INFANRIX, so the actual number of needles used could vary slightly.