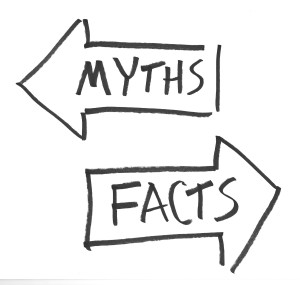 Powerful forces are at work in our world to perpetuate many myths. Two thousand years ago Paul wrote a letter to a young man, Titus. He warned him of a common deficiency in human nature: those in positions of authority, but who are themselves in rebellion against God's authority, deceive others. Paul explained that their only motive is money – the financial gain they receive from perpetuating their lies.[1]
In the United States today, if you are honest, you will admit that there is pervasive endemic culture of lying. A friend of mine has been planing and building a new home for the last few years. She moved in only to discover a host of faults. The house has mold and is causing her serious health problems. She has had multiple interactions with the builders of her brand new home only to realize their willingness to consistently lie to her. In comparing notes with others who know the building industry in her area, they realize lying has become so commonplace because it helps the builders achieve their bottom lines.
Many people depend on vaccines as a fool-proof way to protect their children and themselves from dread disease and keep them "safe and healthy," yet they fail to realise they have fallen prey to a modern myth, the vaccine myth.
It takes time and effort to dig to find the truth. The deception has influenced policy making, media, medical training and public understanding on a grand scale. The perpetrators of the vaccine myth know there is a much greater danger of an adverse reaction after vaccines than they are willing to convey to the public. Their minds and consciences are corrupted. They twist the facts and believe their own lies.
There are good people involved in the continuation of the myth because they themselves have been deceived.
This blog post is going to highlight two important proofs exposing the vaccine myth. Firstly, the history of all illnesses reveals powerful information largely ignored. Secondly, there is incontrovertible evidence of secret meetings, plans, and tactics of those in authority to cover-up information that would have exposed the myth.
History
Many medical doctors are aware of this information, but few are willing to speak out about it. While I am encouraged that the number is growing daily, many outspoken medical voices in the past were castigated by their profession for breaking ranks with the established line regarding vaccines. Dr Jayne L. M. Donegan is one such doctor:
"Despite questioning the safety and efficacy of vaccination by reputable medical men since its introduction, debate has been, and is, increasingly silenced."[2] Scientific studies are being designed or altered to prop up the position of those perpetuating the vaccine myth. For most doctors trained over the last 60 years vaccines are presented and accepted as an established unquestionable 'article of faith.'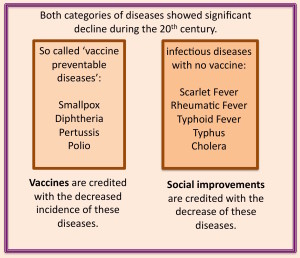 For over half a century medical and nursing students have been trained that vaccines were the reason children and adults stopped dying from diseases for which there are vaccines. They are taught that there are two categories of historical diseases: 'vaccinatable' and 'non-vaccinatable'. Both categories of disease diminished in incidence and mortality (causing death) over time, but the reasons given for this decrease depends solely on whether there was a vaccine that managed to reach the market, or not.
Diseases such as scarlet fever, rheumatic fever, typhoid fever, typhus, and cholera decreased due to better social conditions, but for all the others – the ones they managed to get a vaccine onto the market – the decrease is credited to vaccines.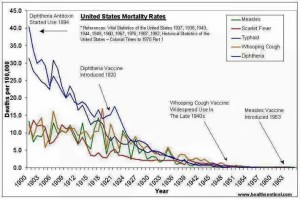 "You would think – as medical students who are supposed to be moderately intelligent – that some of us would have asked, 'But if deaths from these diseases decreased due to improved social conditions, mightn't the ones for which there are vaccines also have decreased at the same time for the same reasons?' But we didn't."[2]
"The medical curriculum is so overloaded with information that you just have to learn what you hear, as you hear it: 'nonvaccinatable' diseases into the social conditions box and 'vaccinatable' diseases into the vaccines box and then on to the next subject."[2]
"Everything I was taught and read in textbooks, both before I qualified as a doctor and through all my post-graduate training, reinforced this view."[2]
Cover-up.
There is a lot of evidence of cover-up that has become available through the freedom of information act (FOIA) and dedicated parents and scientists who refuse to be side-tracked. The following is only a brief sampling of some of the cover-ups employed to perpetuate the vaccine myth.
Firstly, there is the re-classification of the criteria to be classified as 'polio' by the CDC after the introduction of the polio vaccine in the 1950s and 60s in order to convey a massive reduction in polio cases, when in reality so many cases were excluded from the count that they numbers were significantly deflated.
"The definition of polio also has changed in the last six or seven years. Several diseases which were often diagnosed as polio are now classified as aseptic meningitis or Illnesses caused by one of the Coxsackie or Echo viruses. The number of polio cases in 1961 cannot accurately be compared with those in, say 1952, because the criteria for diagnosis have changed." Chicago Tribune, March 1961[3]
Next, please read the entire Simpsonwood Transcript (200+ pages), or at least a summary of the incriminating statements made by 50+ experts including medical doctors during a secret meeting convened by the CDC in June 2000. The reason for the meeting was to discuss the troubling scientific data that had been collected and showed a "strong signal" between vaccines and later neurological damage or delays in children. These experts openly discuss the unfortunate reality and the impact it could have on their cherished vaccine program.
These specially invited guests were invited to this meeting – not with the purpose of actually questioning the status quo vaccine program, but to help the CDC figure out a plan to re-frame and hide the information discovered and explore ways to create more 'scientific studies' to obfuscate the known links. They discussed the role of mercury as a known neurotoxin and reveal nearly complete ignorance on the role of aluminium in harming brain function when injected. Absurdly, instead of seeking more information from experts, they blindly continue with vaccines known to contain high levels of aluminium. Their agenda was clearly NOT to protect the health and well-being of babies, except in the case of one participants recently born grandson – whom he declared would NOT be getting any vaccines until they were safer.
While there is much more evidence you can unearth on the overt attempts to perpetuate the vaccine myth over the last 100 years, the final incontrovertible evidence of cover-up on the part of vaccine promoters that I am going to present is the CDC Whistleblower, Dr William Thompson.
"That's the deal . . ., that's what I keep seeing again and again and again . . . where these senior people [at CDC] just do completely unethical, vile things and no one holds them accountable."
— Dr. William Thompson to Dr. Brian Hooker in a recorded phone call, June 12, 2014[4]
Dr Thompson has made over 100,000 pages of documents available to Congressman Posey and made a public statement in which he admitted to lying and altering data in order to change the perception of vaccine safety in a study published in 2004. Dr Thompson and his colleagues at the CDC discovered through their epidemiological survey that there was an increased risk of autism under some conditions after vaccination. Instead of making this information a topic of further investigation so that children would be protected, they were told by their bosses at CDC that they needed to change the study design midstream. Under no circumstances was there to be an acknowledgement of possible vaccine harm.
Over a series of many telephone conversations with Dr Brian Hooker, Dr Thompson revealed his role in this cover-up. He states clearly "My boss told me to lie. I have stopped lying. I am not going to lie anymore." He also expressed deep remorse every time he sees an autistic young child because he knows that his actions could have contributed to the possibility that this child developed the neurological symptoms because he had been involved in a scheme to lie and cover-up known links with recommended vaccines. You can read the transcripts of the telephone conversations in this highly recommended book, Vaccine Whistleblower: Exposing Autism Research Fraud at the CDC.
This information is hard for most of us to swallow. We would rather believe the world is a safe place and the people in authority would never lie to us. It is particularly hard to believe that anyone would lie or hide evidence that would result in harm to infants and children.
I know 99% of parents would never knowingly harm their baby, yet I continue to daily receive reports of severe vaccine reactions and sometimes deaths, because parents have been lied to. I encourage everyone to dig deeper and get the facts for yourself. You don't have to believe me. You can find the information to make an informed decision for the health and welfare of your family. Your most important responsibility as a parent is to protect your precious babies.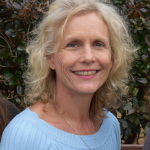 Author Becky Hastings: I'm just a wife, mom, grandmother, passionate follower of Jesus, fitness trainer, health promoter, breastfeeding counsellor helping moms for 22+ years, and someone who seeks to research, understand and share truth so people can make wise choices in our crazy mixed up, deceived world!
[1] Titus chapter 1
[2] Dissolving Illusions: Disease, Vaccines, and the Forgotten History by Suzanne Humphries and Roman Bystrianyk. Forward by Dr Jayne L. M. Donegan.
[3] http://archives.chicagotribune.com/1961/03/05/page/62/article/the-truth-about-the-polio-vaccines#text
[4] http://thinkingmomsrevolution.com/the-thompson-transcripts-shocking-revelations-by-the-cdc-whistleblower/