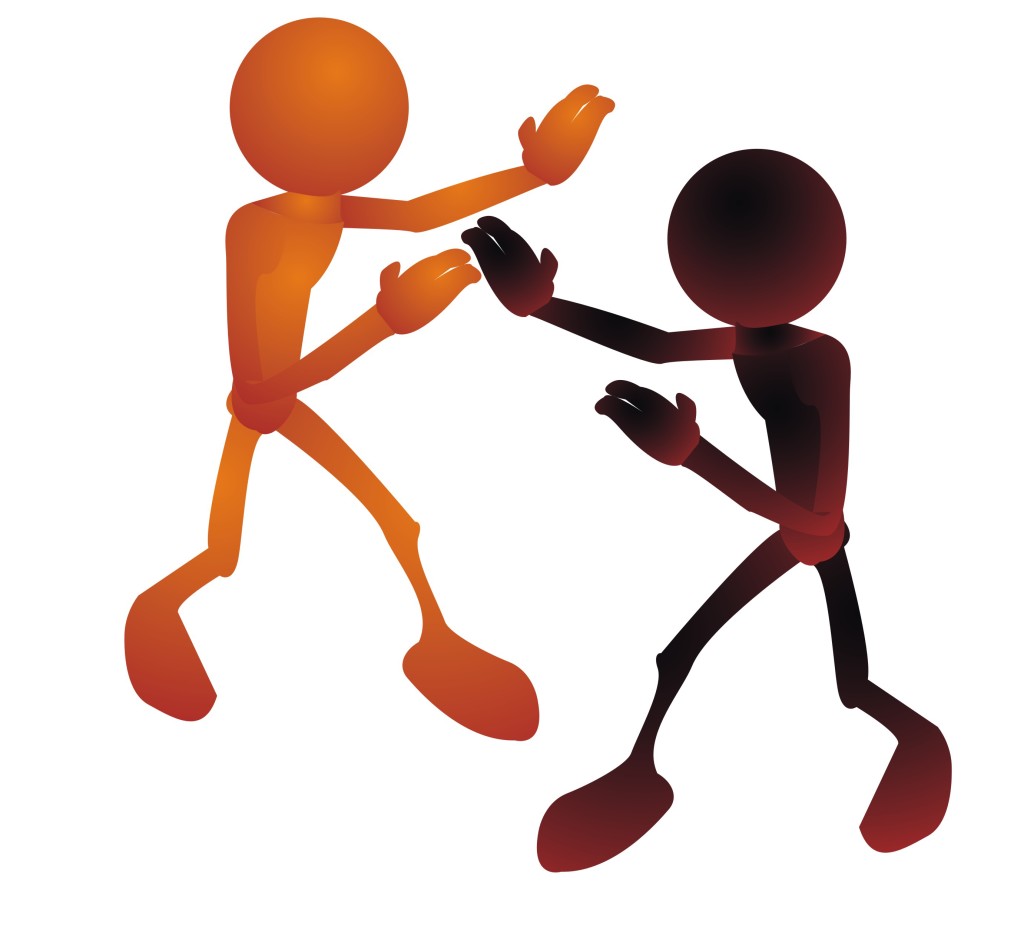 No doubt, making medical decisions is one of the most important things we can do as new parents. AND we are often bombarded by advice.
Advice from total strangers, advice from mainstream media, advice from friends, advice from medical professionals whom we want to trust, etc. Probably the most challenging advice to deal with is the advice that keeps getting repeated to us from those we are sure LOVE and care for our children as much as we do: our family. Our family can try many different tactics to "help us understand the danger we are exposing our child to by refusing vaccines." They truly think we have been influenced by crazy people and are on the verge of becoming crazy ourselves.
The thing is, they CARE. They truly wish no harm to come to our children. They are fully confident that all the information coming from the CDC and our really really nice doctor, is 100% reliable. They believe that vaccines are safe and effective and if we would just give them to our babies, we will all live happily ever after.
You might have done your research when pregnant. You've spent hours combing the science and the opinions about vaccines. You feel strong and confident in your decision to avoid or delay vaccines most of the time, but other times the pressure from family starts to get to you. You begin to questions yourself. How could sooooo many people be wrong? How could my own family be wrong?
Before you completely cave in to the pressure from family who are saying things like 'We all vaccinated and we don't have any problems' or 'Why do you want your baby to die from a disease that could have been avoided?', etc, please at least do a couple of things:
1. Build your own confidence in your own thinking skills:
"The Professor" is particularly brilliant and has an understanding of science far beyond mine. She also has experience working in a scientific field and unfortunately, due to her child's vaccine injury she has been forced to become an expert on all aspects of vaccine science. She has some great insight into why there is so much debate and why scientists disagree so strongly on the topic.
Moral of the story? There are lots of ways you can dampen a strong signal if that's what you're trying to do. And if you read the available "vaccine science," you will get a crash course in them. When analyzing the science, you need to ask yourself the all-important question, "Is this study designed in the best possible way to reveal a 'signal' if there is one?" And if not, why not? Often you will find when it comes to "vaccine science," like its correlate "tobacco science," that not only is the answer to the first question no, the study has actually been designed in the worst possible way to reveal a 'signal." Why are these studies so badly designed? Can it be that no one at the CDC understands science or even logic? Hardly. The real answer is painfully obvious: a study designed in the worst possible way to reveal a signal, is often the one designed the best possible way to hide one.
Continue looking for valid scientific support for your decision to boost your confidence. Read vaccine inserts and look for true scientific sources. Dr Sheri Tenpenny has many great videos which provide detailed information from CDC and all published scientific literature. She is a trained and experienced medical doctor and has personally devoted over 18,000 hours to understanding the subject of vaccines.

Read

Navigating the Information

, a post I wrote to help you think through some important questions regarding vaccine safety and science.
2. Establish Boundaries by graciously asking some significant questions to those well-meaning family members. Be prepared to challenge them with an approach something like this next time they bring up the topic of vaccines: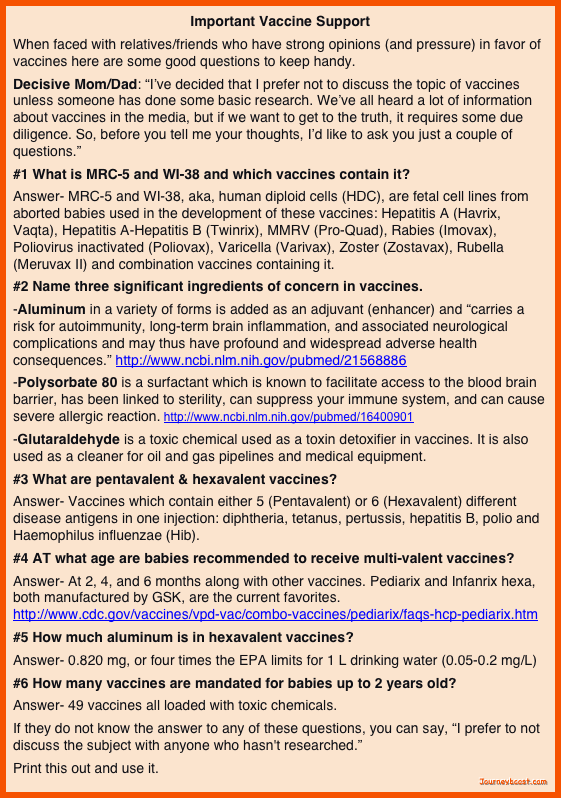 Vaccine questions (PDF version for you to print out)
Finally, be strong in the Lord and in His mighty power (Ephesians 6). Lies and delusion are powerful. The battle for truth is a spiritual battle. People might have the best of intentions but are completely deceived by other 'professionals' who are themselves completely deceived (Colossians 2). When you have believed lies for decades it can take time to realize the truth. Allow the Spirit of God to guide you into all truth and have confidence in how He does so. God did not give us a spirit that makes us a slave to fear (Romans 8:15; . He wants to bring light and life to every subject. In Jesus are hidden all the treasures of wisdom and knowledge (Colossians 2). The early disciples were brilliant beyond their education because they had spent time with Jesus. You too can become confident and bold as you prioritize spending time with Jesus and building your faith.
Vaccine wars in families are usually not fun. It can be difficult navigating loving those who care about us and standing strong in the truth we have come to know. I pray these thoughts will be helpful if you are experiencing conflict in your family regarding vaccines. And don't forget to pray.
I would love to pray with you. The truth needs to make headway in our crazy world.