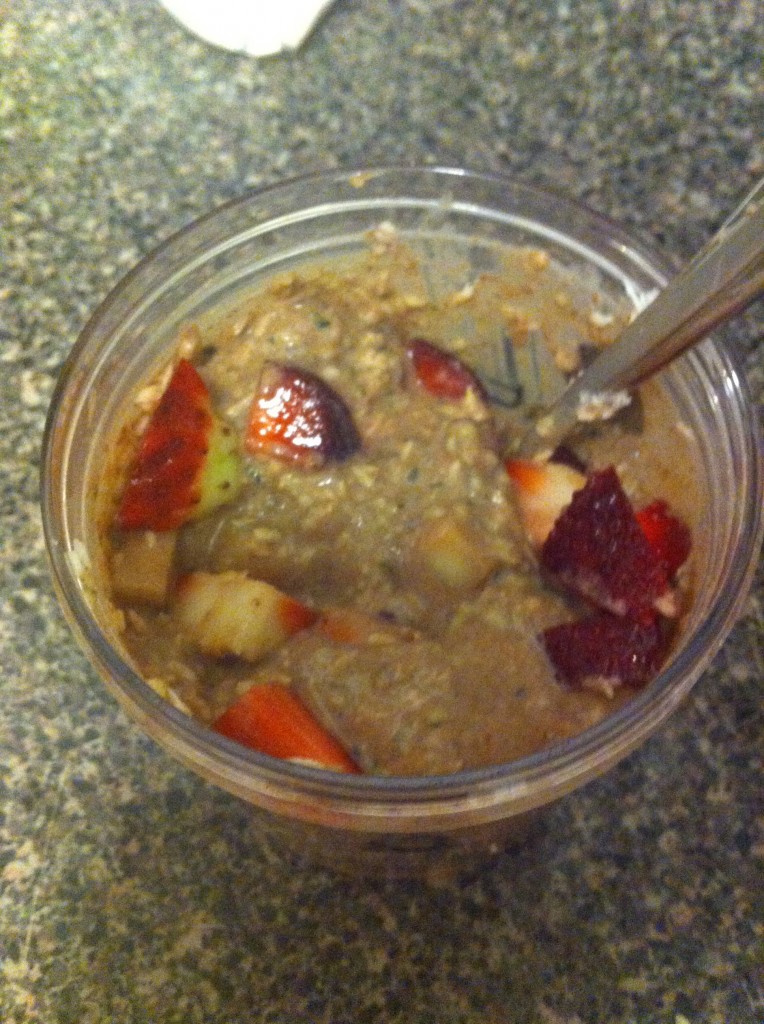 We all love fast food.  Many times we NEED fast food.  We have a deadline, a place to be, an important reason to be there, but not enough time for eating our healthy breakfast.
It is time to think differently.  What can I make that is fast, nutritious, good for me AND will travel well? Chia porridge to go.  I wrote about chia porridge previously, this is an expansion. Choose your favorite flavors and personalize it!  The great thing about Chia porridge is that the chia seeds need about 15 minutes of soaking to expand, so it can travel with you and get better on the way! I made this chia porridge to go for my husband to take with him for his early morning appointment:
1/2 Tablespoon chia seeds
water to cover
1/2 Cup or so of homemade kefir
1/4 Cup hemp seeds
1 Tbl raw cacao powder
1 Tbl raw maca powder
nuts, raisins, seeds
1/2 Tbl honey
chopped pear
chopped strawberry
For those who are more hard-core you could add a few veggies (celery, cucumber, kale) and omit some fruit.  Others might want to top their chia porridge with homemade granola or add different fruits. The hemp gives you the energy and will sustain you so you don't feel hungry.  The chia is a great source of omega 3s. The maca powder is optional, but gives a great boost. We're all at different stages of our journey, but I think most people will be able to find some way to modify this concept in a way they can enjoy it.  If you decide to have eggs for breakfast, you could always have a bowl of chia porridge for lunch!
Other chia ideas here
and here