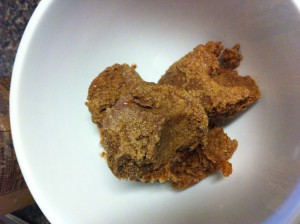 I quickly need to write down my recipe so I don't forget how to create this frozen deliciousness!  It was 100% an experiment with no outside input.  I did read about raw cacao last night from David Wolfe's Superfoods – which is probably where I got the inspiration.  Or maybe I dreamed it up during the night.  Anyway, first thing this morning I just had to try mixing the following ingredients together in my Vitamix (like most of my recipes, everything is more or less – an approximation.  I apologize to those for whom this drives them crazy, i.e. Gary).
1-2 Cups of raw milk with lots of cream included (don't tell my microbiologist husband).  (I think it was actually 1 1/2 Cups, but I didn't measure)
1/2 Cup coconut* oil (I did not melt it, I might try melting it next time)
1-2 Tablespoons flake coconut*
1-2 Tablespoons goji berries*
1-2 Tablespoons hempseed*
1-2 Tablespoons honey*
5 heaped teaspoons (Menchies plastic spoon) raw cacao powder
pinch Himalayan salt
10 or so almonds (save till last)
I added everything to the Vitamix and blended for nearly a minute, then I dropped the almonds in last in the hope that some of them wouldn't get too blended.  I was hoping for a bit of crunch.
If you don't have a Vitamix you can either blend or grind or chop the chopable ingredients and then shake everything else together.  The hard part is distributing the coconut oil evenly throughout, which is why melting it might work better.
I then poured it into some empty Talenti gelato containers.  My plan was to put it in the freezer and shake it every so often on its way to getting frozen.  I only managed one shake before I had to go out.  It doesn't have a genuine smooth creamy ice cream consistency, but it is GOOD!  Now my 'reluctant to enjoy truly healthy foods' thirteen year old daughter, was not quite as excited about this concoction as I was, so it may have more appeal to those already enjoying their journey towards health!  Truly, I think it was better than any chocolate ice cream around – because I know every ingredient is good for me and it wasn't too sweet.  But we have to allow for differences of opinion and also growth!
* The ingredients marked thus are all listed as the top 10 Superfoods according to David Wolfe.  Count them – there are 5 different super nutritious foods in this unique frozen blend!  I tried to think of as many of them as I could that I had available and that would add to the flavor and nutritional content of this delightful dairy blend. Next time I hope to add Maca Powder.
Did you know?  Some of the benefits of raw cacao:
it is off the charts for its ORAC score (which means it is VERY HIGH in antioxidants –  about 100 times higher than blueberries)
it is a natural great source of magnesium – which is great for so many reasons
it is a natural appetite satisfier – which means you won't feel so hungry
it has a lot of other good minerals too – in fact, it's like taking a mineral supplement!
it makes you feel good!
That's all I can tell you from memory, but I do recommend reading Superfoods.
Top 10 Superfoods:
Goji Berries
Raw Cacao
Maca
Bee products, including Honey
Coconut
Spirulina
Hempseed
Aloe
AFA Blue Green Algae
Marine Phytoplankton
Please experiment and let me know how yours turns out.  It really was super super easy and super super nutritious!  You can do this!  Let me know if you enjoy Superfood Rich, Guilt free, Chocolate Ice Dream!